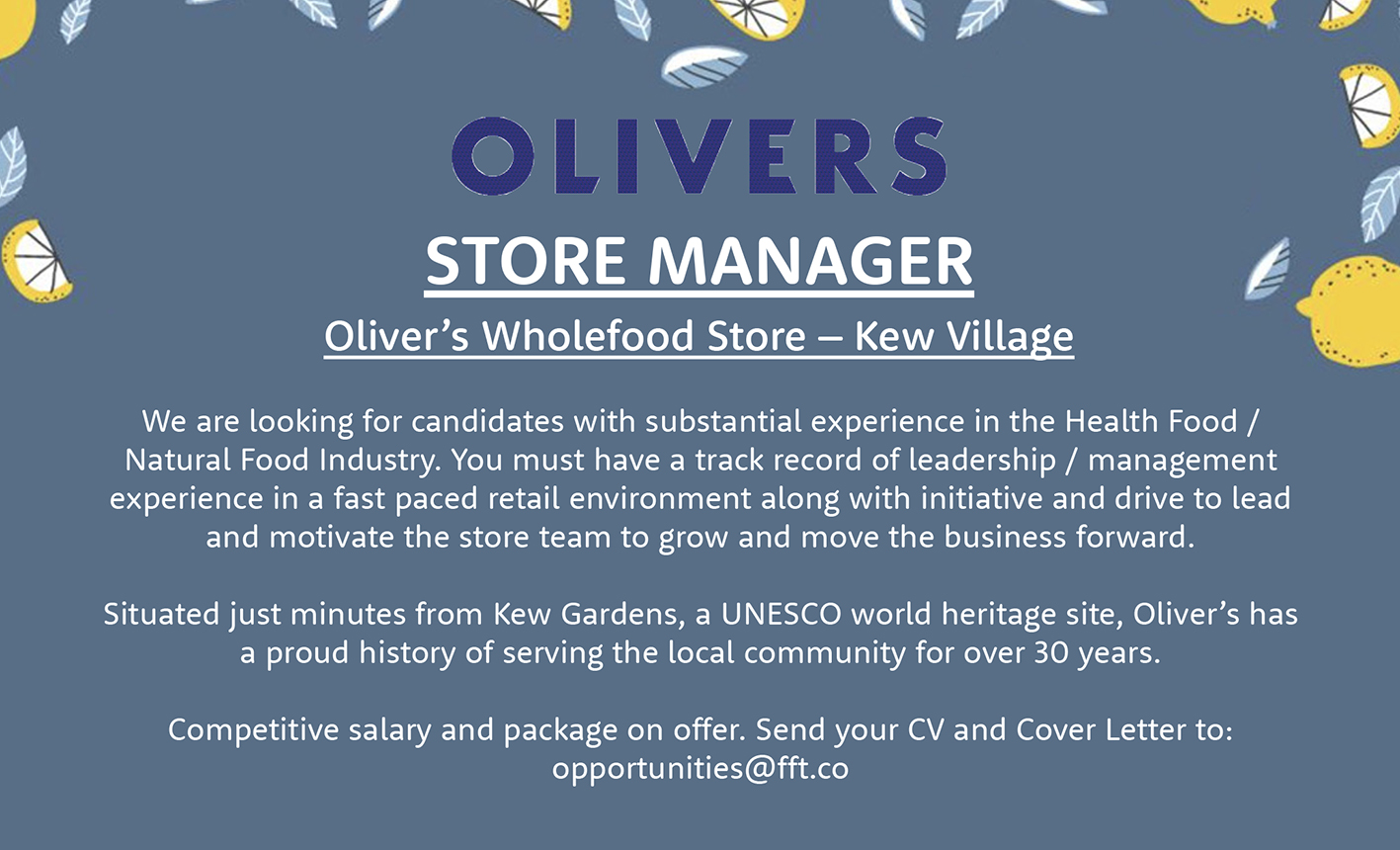 STORE MANAGER
Oliver's Wholefood Store – Kew Village
We are looking for candidates with substantial experience in the Health Food / Natural Food Industry. You must have a track record of leadership / management experience in a fast paced retail environment along with initiative and drive to lead and motivate the store team to grow and move the business forward.
Situated just minutes from Kew Gardens, a UNESCO world heritage site, Oliver's has a proud history of serving the local community for over 30 years.
Competitive salary and package on offer
CV and Cover Letter to:
opportunities@fft.co
---
Bio-nature Ltd – @bionatureltd – are a family run UK distributor of Health supplements with 3 generations of experience in the industry. They are excited to be looking to expand their team and are currently looking to recruit an Account Manager to cover M5/M40 corridor.
Responsibilities:
• Develop strong ongoing relationships with existing and potential customers
• Develop a strong knowledge of Company Products in order to deliver presentations and field any technical enquiries relating to them
• Have an existing knowledge of the the Health Food Trade and accounts
• Work with existing accounts to grow and expand their current range.
• Prospect and qualify new sales leads
• Schedule Meetings and presentations
• Coordinate with other team members
Helpful Skills and Experience:
• Prior Customer Support experience
• Strong verbal and written communication skills
• Excellent Interpersonal skills
• Strong ability to take initiative and confidently direct customer interactions
• Highly self-motivated
• Strong organizational and time management skills
Attractive salary, Company Mobile, Company Laptop/ Ipad, Company Car
Please send CV to liz@bionature.uk.com
Closing date 26th September 2021