Key figures from the natural health industry joined with politicians to discuss the importance of improving iron levels among at-risk groups.
Held at the Houses of Parliament, the latest All-Party Parliamentary Group (APPG) – Micronutrients and Health turned the focus on iron and the importance of improving iron status in young women.
Chaired by Marcus Jones MP, who expressed his interest in the area of human nutrition and what we can do to improve people's health, the event benefitted from presentations from two experts working in the field, who explained why iron is so critical, what it is used for, and, most importantly, issues around absorption and how we can ensure people are getting enough.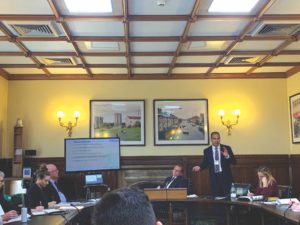 Charlotte Stirling-Reed is a Consultant Nutritionist, who specialises in maternal, infant and child nutrition. She is registered with the Association of Nutrition, the Nutrition Society, SENSE Nutritionists and the Guild of Health Writers. She set out to highlight the true scale of iron deficiency.
"Iron is an incredibly important nutrient for health, it plays a role in creating haemoglobin, it plays a role in transporting nutrients around the body and a lot of other roles – it is essential to life. Twenty to 30 per cent of your iron is stored and the rest is being utilised all the time, you only absorb what you need and your body has no provision to excrete it," she explained.
"Absorption is regulated with your iron stores. If intakes are low, your iron stores will be utilised. If you have adequate iron stores, you will absorb less from food."
Demonstrating the scale of deficiency, Stirling-Reed highlighted that the World Health Organization estimates that anaemia affects 25 per cent of the world population, with iron deficiency anaemia being responsible for the majority of that.
She also referenced issues around dietary reference values (DRV) because iron absorption is dependent on a number of factors, which differ in individuals, such as the bioavailability, how the person takes the iron and the potential inhibitors to absorption.
"The majority of people having levels at the LRNI [lower reference nutrient intake] are not having enough and are likely to be deficient," she explained, "and 54 per cent of teenage girls are below this intake for iron."
Stirling-Reed also highlighted the groups that require plenty of iron, including children aged 1.5-3.5, teenagers, both boys and girls, and women of childbearing age.
She finished: "We definitely need to take another look at the DRV with iron and healthcare professionals need to be really aware of these at-risk groups."
Also speaking was Dr Sebastien Farnaud, an Associate Professor of Biomedical Sciences at Coventry University, who has held various research-led roles at the Dr Hadwen Trust, the University of Westminster, University of Bedfordshire and Coventry University. He discussed strategies for improving iron status, explaining that understanding the mechanism of iron and how it is absorbed is the first place to start. He advised that it is not as simple as taking a pill as so much is involved in absorption, and so discussed the need to target the effects and increase iron uptake.
Commenting after the speakers, Marcus Jones said: "It shows the complexities and the challenges of dealing with iron deficiencies."
He highlighted both the need to educate around ensuring children are obtaining iron through the diet, adding that the second priority is "not a simple solution" to focus on health professionals.
"Not all health professionals necessarily get the challenges or how to deal with it and perhaps they need more information. That's something we will take back and discuss" he commented.
Following the presentation, Graham Keen, Executive Director at the Health Food Manufacturers' Association' (HFMA), which manages the Secretariat of the APPG, told the meeting: "There is a recurring theme that always comes up with regard to the way health professionals are not informed well in the area of human nutrition. That's one of the biggest challenges we have here."
The meeting was in agreement, and Marcus Jones gave assurances it would be raised with the relevant officials.